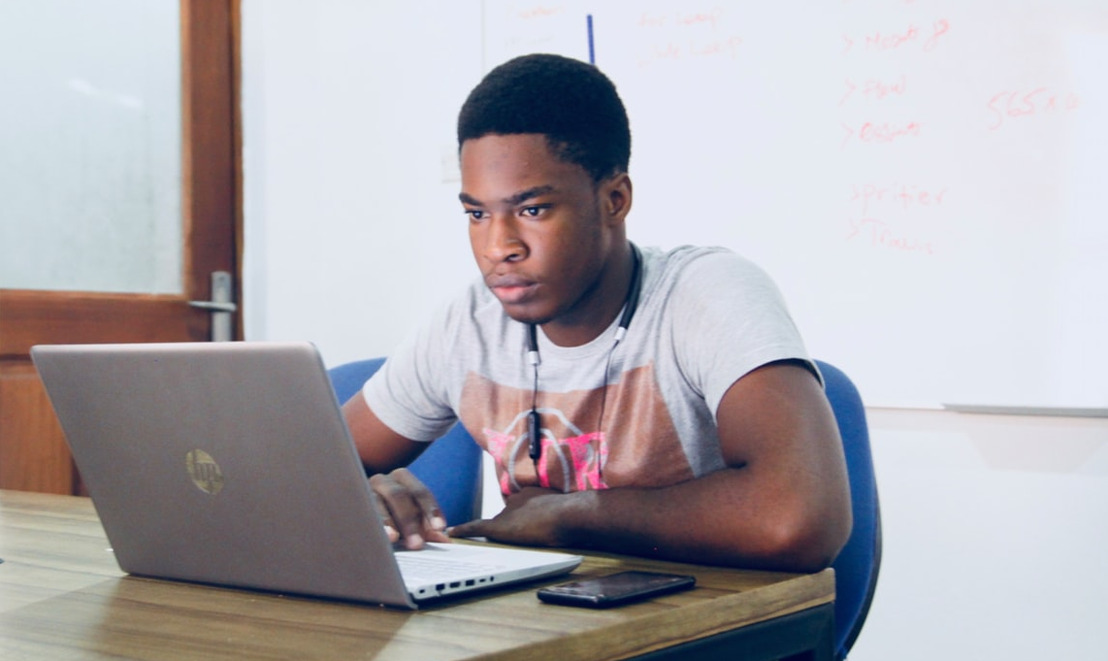 Online freelance platforms to add US$2.7 trillion to the GDP; Crypto projects are vying to profit from the trend
By 2025, an estimated 540 million people will be living off of what they earn through working on freelancer platforms.
Online freelance platforms are growing at such a rapid pace that by 2025, independent workers could add US$2.7 trillion to the global gross domestic product (GDP). That also means that the number of people in the global freelance sector could grow to just over half a billion in the next five years, according to a McKinsey & Company report. Currently, the World Bank reports that there are now anywhere between 85 million to 150 million online freelancers around the world.
"Up to 540 million people could benefit from online talent platforms by 2025," McKinsey added. "As many as 230 million could find new jobs more quickly, reducing the duration of unemployment. Also, 200 million who are inactive or employed part-time could gain additional hours through freelance platforms."
The global management consulting firm said hundreds of millions of people around the world are already using freelance platforms. They add that they are still evolving. However, "if they touch only a fraction of the global workforce, we believe they can generate significant benefits for economies and individuals," it added.
"In countries around the world, 30 to 45% of the working-age population is unemployed, inactive in the workforce, or working only part-time," they explain. "In Brazil, China, Germany, India, Japan, the United Kingdom, and the United States, this adds up to 850 million people."
McKinsey & Company suggests the online gig economy is increasing rapidly. They explain the reason is that the worldwide labour markets have not kept pace with the rapid transformation of the global economy due to significant inefficiencies.
Top 10 countries with highest rates of informal employment ​ ​ ​ ​ ​ ​ ​ ​ ​ ​ ​ ​ ​ ​ ​ ​ ​ ​ ​ ​ ​ ​ ​ ​ ​ ​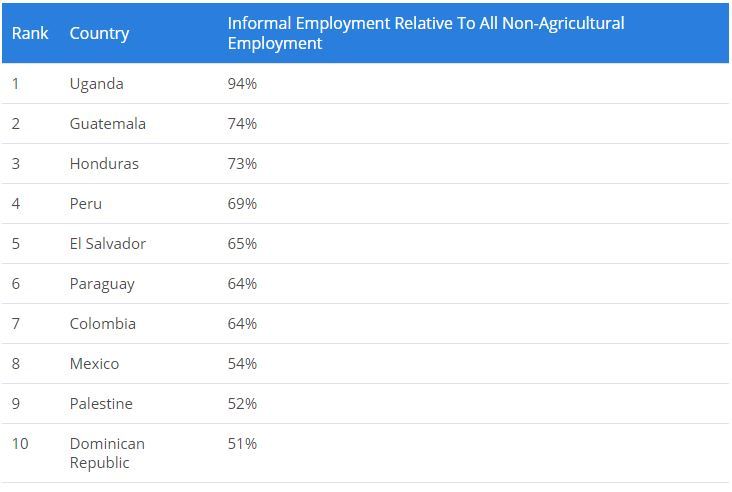 Financial exclusion is another reason why the online freelance workforce is growing, a statement confirmed by the above graphic that shows that of the top 10 countries where freelance revenue is increasing, eight are developing countries, where the number of unbanked and living in poverty is more pervasive.
An article by Forbes points out to the fact that the overall gig economy stands to drive higher growth in developing countries than elsewhere. It says that it is because they already have a larger population involved in the informal sector of the economy.
"The fact that workers in developing nations don't have to struggle to accept the realities of a 'gig economy mentally' may mean they're already ahead of the curve when it comes to maximising the gig economy's potential," Forbes added. "Developing countries are far more comfortable with informal economies, and so the shift to a 'gig economy' is actually not much of a shift at all."
The Malaysian government, for example, see their domestic gig economy as an opportunity to higher productivity, Forbes said.
Freelancer earnings are increasing rapidly, Payoneer stated in an 11-page report released in 2019. It adds that freelancer earnings in the United States outgrew all other countries with 78%; in the UK, growth was reported at 59%; Brazil, 48% and Pakistan, 47%.
However, Asia recorded the most significant regional growth, with earnings up by 138% in 2018 across four countries.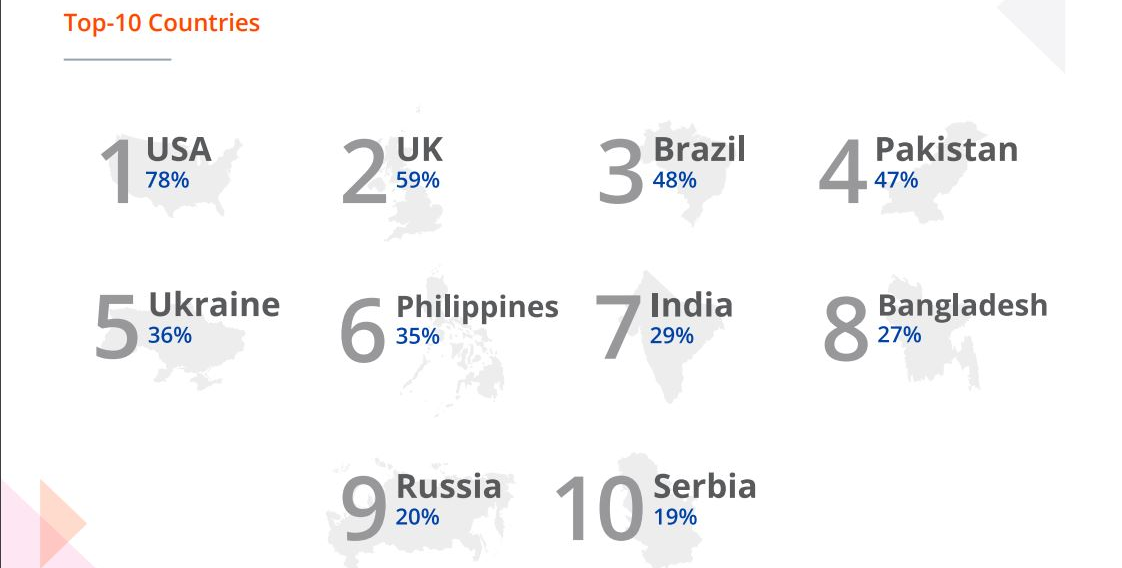 By age group, freelancers aged 18 to 35 made up the largest group at 64%; however, the 25-34 group represented the group with higher earnings, according to Payoneer's study.
The commercial potential for freelancing platforms is massive. Freelancers in the US represent 35% of the workforce, and they contribute approximately US$1 trillion to the economy. Blockchain projects are better poised to benefit from the growing sector as it offers many advantages. These include lower fees, no censorship, dispute process transparency, no financial limits, no arbitrary intervention from corporations and governments.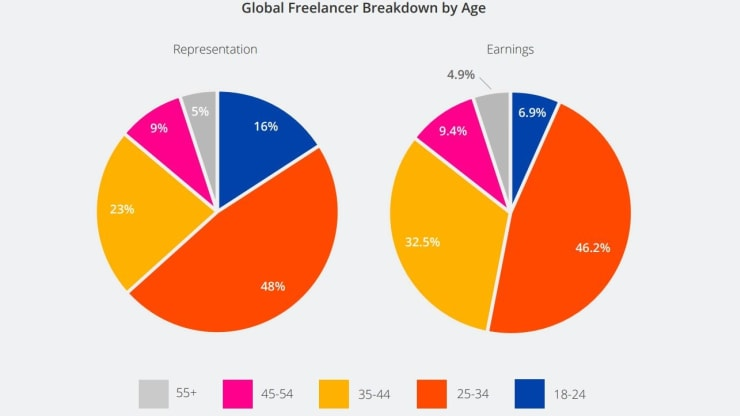 Hundreds of freelancer platforms
There are currently nearly 200 online freelance platforms. The most popular are Upwork, Fiverr, Worksome, Freelancer.com, and many more. This online job markets stand to lose users to blockchain and crypto freelancer platforms due to the high cost of dealing with them.
For example, Upwork, according to its website, charges up to 20% in fees to those selling gigs. The other issue is that they require freelancers to have a bank account.
Blockchain and crypto freelance platforms are in the dozens and growing. Amongst the cryptocurrency freelance platforms, about eight stand out, including AnyTask, Workforcrypto, Cryptogrind, Cryptotask, XBT Freelancer, ETHLance, Blocklancer, Cryptohire, Coinality, among others.
The Usethebitcoin website claims Cryptgrind is one of the best places for freelancers to get paid in Bitcoin. However, the freelancer outlet charges 9% on all transactions to both the buyer and the seller. They also speak of Coinality as one of the most popular cryptocurrency job board platforms, despite there being no updates on their website since at least late 2018.
The other issue with this platform is that they post jobs from other online platforms, such as Upwork and Komodo. Crypto Jobs focuses only on jobs in the crypto and blockchain sector. XBTFreelancer charges sellers 10% for each task they sell, and payment is in Bitcoin. Withdrawals cost US$0.60.
The Orbi Network is included in the top crypto freelancer platforms despite being in the development stages, but according to their draft white paper, fees to freelancers are 10%. Work for Crypto has been in development since April 2019 and a final version to be ready by August 2020.
They have no white paper and are not too clear regarding fees and commissions. Cryptotask is also currently in development since late 2018, and according to their website, their final product has no scheduled launch. They charge customers 3% or a total of 6% to buyers and sellers combined.

Electroneum's AnyTask stands out because it does not charge the seller of gigs any commissions or fees. The buyer, however, will pay a 5% commission on all their purchases.
Unlike all freelance platforms, AnyTask is aimed at helping the financially excluded, the unbanked, and those living in poverty as it does not require users to hold a bank account. It is the only one that enables users to sell and create tasks with even just a smartphone.
Electroneum is continuously adding value to its ETN token, including mobile top-ups, purchase of everyday items in participating shops. And lastly, Electroneum will add even greater value to the sellers with the launch of TaskSchool, the free online learning platform.
With the increasing digital freelance sector showing continuous growth, blockchain again emerges as the technology that is effectively disrupting all industries. It is bringing a new era of greater transparency and trust, lower fees, and increased processing speeds.
Argentine artist Gabriela Herrera accepts ETN as payment for her amazing artwork. She is also looking forward to AnyTask.